Thropton Energy Services specialises in "zero head" hydro power in the form of Water Current Turbines. Water Current Turbines (WCTs) utilise renewable energy in the form of kinetic energy from a flowing river or canal and use it to pump water or generate electricity. These turbines are quiet and pollution free in use. Minimum site requirements are a water current speed of at least 0.5m/s and a depth of 1.75m or more.
We provide a complete range of services relevant to WCTs from resource assessment to design and supply local manufacture. We have twenty years experience in this field and have worked in UK, Sudan, Somalia, Egypt and Peru.
We are also designers and manufacturers of the Garman turbine for water pumping and electricity generation. This WCT can be thought of as an underwater windmill which floats on a river or canal with the rotor completely submerged. It is moored in free stream to a post on one bank, making installation simple and cheap and minimising obstruction to river traffic.
Our turbines are stand-alone units and have a maximum power output of about 2kW. To keep the capital cost down we have designed the turbine for local manufacture. Garman turbines are being manufactured in Sudan where they are used for pumping irrigation and drinking water from the Nile and for electricity generation.
Click here for our site assessment chart showing site conditions required.
Irrigation
- delivers up to 45
cubic metres per hour
WATER SUPPLY
- heads up to 25m
Electricity Supply
- up to 2kW at 240v
Battery Charging
- up to 1kW at 12/24v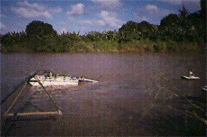 Somalia - irrigation
UK Built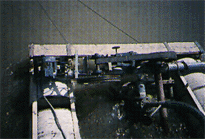 Sudan - irrigation and 240v electricity
Sudan built
Contact Dr. B Sexon, Thropton Energy Services,
Physic Lane, Thropton, Northumberland NE65 7HU
United Kingdom
Tel: +44 1669 621288

For further details e-mail